HQT Unveils the Latest LTE PoC Radios at Global Sources Electronics
10 Jan. 2019 News
HQT, a professional manufacturer and supplier specializing in wireless communications, has showcased its latest LTE PoC radios in the Global Sources Consumer Electronics Trade Fair 2018 from 11th to 14th Oct. at the AsiaWorld-Expo in Hong Kong.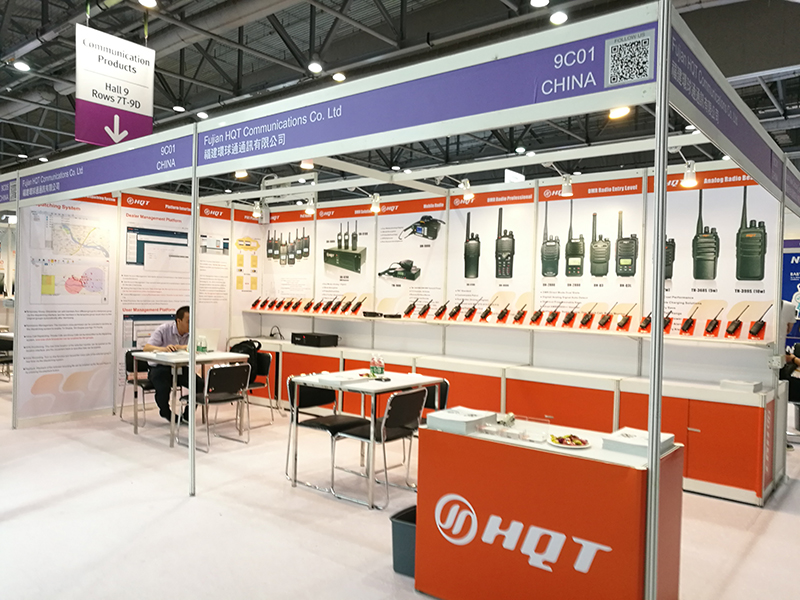 In the exhibition we had technical experts and professionals on-hand, as well as having a wide variety of new products on show, including:

1. New PoC Radio LTE
• GH-555LTE and GH-288LTE, etc, the new generation of HQT PoC radio;
• HQT PoC Management Platform - independently developed by HQT and consists of Dealer Management Platform, User Management Platform and Dispatching System, which integrates sales management, user management and dispatching to provide more efficient and secure PoC service.

2. DMR Radios
• Professional Digital Portable Radios: DH-9800, DH-9100, DH-8800 and DH-8100, etc.
• Entry Level Digital Portable Radios: DH-2800, DH-2880, DH-Q3 and DH-Q3L, adopt DMR direct mode dual slots, which ensures high-efficient frequency coverage.
• Digital Mobile Radio: DM-9800
• Digital Repeater: DR-9200

3. New Analog Radios
• Cheapest 10W Analog Radio: TH-399S, with optional 2600mAh large capacity battery.
• Cheapest 5W Analog Radio: TH-368S
• Cheapest 2W Analog Radio: Q1S
HQT new products won the buyers' attention with cutting-edge technologies and good performance at Global Sources Electronics 2018, and HQT has been devoted to delivering more effective solutions for the customers.